Founded in 2008, Teach Future China (TFC) is affiliated to the UNESCO International Research and Training Centre for Rural Education. In May 2014, TFC was registered with Beijing Municipal Bureau of Civil Affairs as a private non-profit organization, the registration name being "Beijing TFC Charity Development Center". By delivering excellent university graduates leaving for rural schools with relatively scarce education resource to teach for two years and supporting outstanding Government-Sponsored Scholarship Program graduates to go back to the grass-root schools to start two-year teaching practice, we congregate talents who care about education, improve the education status in underdeveloped regions and for underprivileged children, and propel fair and healthy development of children education. TFC carries out two projects for now: Volunteer Teacher Project and Future Educator Project.

TFC aims to look for and encourage youngsters with both charity or education ideal and practical ability, together we explore the possibility to improve education for rural children through long term work in local schools. Meanwhile, through teaching practice at grass-root level, TFC cultivates the youngsters to develop into capable and perseverant people who are willing to contribute to rural education development and to boost the progress of Chinese society with TFC in the future.
TEAC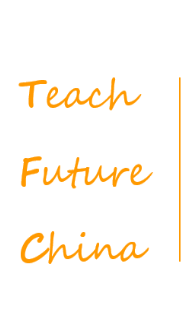 H: Upgrade the education situation of rural childrenHelp rural children receive proper education and improve their comprehensive quality and capacity through delivering and supporting capable young teachers as well as practicing innovative teaching methods.
FUTURE: Cultivate excellent talents of future society and continuously advance the equality of educationLiving hard life and being a group leader can cultivate good character, leadership skills and pragmatic spirit, which will enable the members to continue to care for Chinese education and further its progress with greater energy in the future.
CHINA: Influence the development of Chinese society Social responsibility and dedication of the project members will convey positive energy to the society. Self-discipline, cost-efficiency of the organization can exert a positive impact on the philanthropy industry.
Milestones of TFC
In 2009, the first group of Volunteer Teacher Program was sent by TFC to teach in rural schools in Anhui and Jiangsu province.
In 2010, the second group of Volunteer Teacher Program began to teach in charity migrant schools in Beijing.
In 2011, volunteer teachers went to Hebei province, teaching in schools of Fengning Manchu Autonomous County and Qinglong Manchu Autonomous County. In the meantime, the first batch of Government-Sponsored Scholarship Program graduates was selected and joined Future Educator Project under TFC.
In 2012, members of TFC taught in four rural schools in Zhouzhi County, Xi'an, Shanxi Province.
In 2013, Volunteer Teacher Program covered two remote counties of Weining and Jianhe in Guizhou province.
In 2014, Volunteer Teacher Program further extended to Yuanling County, Anhua County in Hunan province and Yongshou County in Shaanxi province.
In 2015, both Volunteer Teacher Program and Future Educator Project reached steady scales, with members working in 21 provinces, municipalities and autonomous regions.
As of the end of 2015, members supported by TFC added up to 460.